Menu:
Grooming pillows
---

These grooming pillows can be made with any following fabrics. At your choice in:
printed satin, plain satin or velvet, at $12.00can/each.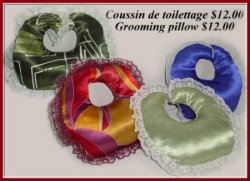 Velvet
12 Fuchsia
13 Burgondy
14 Wine
15 Royal Blue
16 Forest Green
Printed Satin:

Quantité:

Prix:
$


Plain Satin:

Quantité:

Prix:
$


Velvet:

Quantité:

Prix:
$


TOTAL:
We need these fields to process your order.
Name:
Address:
City:
State/Province:
Country:
Zip/Postal code:
Email address:
Phone:
Additional order instructions, questions, or comments:
We will email you for confirmation order cost.
The taxes are included in the price of these items.
Boucles Perle Blanche, © tous droits réservés 2002.
---

Web design by Francyne Deschênes
Alma, Quebec, Canada